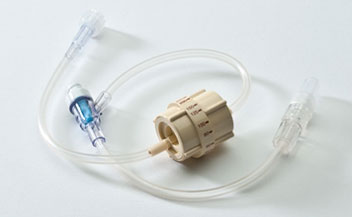 Precision flow regulator for the administration of I.V. Solutions
Safety and reliability: Once adjusted, the flow remains constant during the entire infusion procedure, eliminating the need to frequently monitor and readjust the control device. No risk of over-infusion. Two-handed setting procedure prevents accidental tampering.
Simplicity: Installation, calibration and adjustment are performed in a few minutes and require no special training.
Economy: Low cost disposable unit requires no capital investment, freeing hospital from inventory and maintenance costs.
Versatility: Suitable for use with all types of fluid containers and most IV solutions available on the market.
Special configurations and custom-made manufacturing available.
Configuration
Short regulator extension set
Latex-free septum or needle-free y-site
20 or 60 drops/ml drip chamber
Transparent or light protected sets
DEHP-free PVC or PVC-Free sets
One way gravity check-valves
in-line 0.2 micron filters