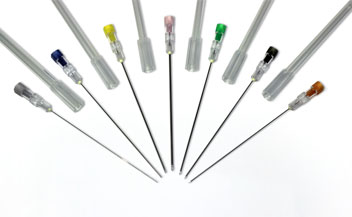 Needle tip has a "diamond point" shape that enables smooth penetration, and transmits resistance at needle tip to the fingers.
In addition to lumbar puncture needles, spinal needle equipped with three-way stopcocks that are convenient for other purposes, such as measuring CSF pressure, are also available
Clear outer hub
The outer hub IS clear and colorless. enabling the easy visualization of CSF flashback. The inner hub is color-coded according to ISO specifications.
Smooth penetration
The needle tip has a shape that enables smooth penetration and transmits the resistance at the needle tip to your fingers. The cannula and styles are precisely fitted and smoothly aligned at the tip of the needle. reducing tissue trauma.
Ordering informafon
Size
O.D.
Color code
Needle length
Package
18G
1.27mm
Pink
89mm, 70mm
20 pcs./box, 100 boxes/carton
19G
1.10mm
Cream
200
0.90mm
Yellow
21G
0.80mm
Deep Green
22G
0.70mm
Black
23G
0.63mm
Deep Blue
25G
0.50mm
Orange
27G
0.41 mm
Medium Grey
To assure safe and reliable penetration, a guide needle is available for use with the 27G spinal needle.
Guide needle
| | | |
| --- | --- | --- |
| Size | Needle length | Package |
| For 27 G | 32mm | 20 pcs./box, 100 boxes/carton |