TOP SYRINGE PUMP TOP - 5300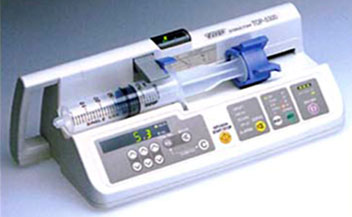 Features
Syringes of various brands are supported
Disposable syringes in normal sizes of 10,20,30, and 50/60ml can be used.
A wide range of infusion rates is supported (Max. 1500mL/h for 50mL syringe)
Option to save infusion rate and total volume data before power off.
Presence/absence of the "wait" tone and key operation tone can be selected.
Detection of occlusion pressure can be selected
Three types of power supply are available (AC, DC and Internal)
Auto power off, Repeat alarm, Buzzer setting.